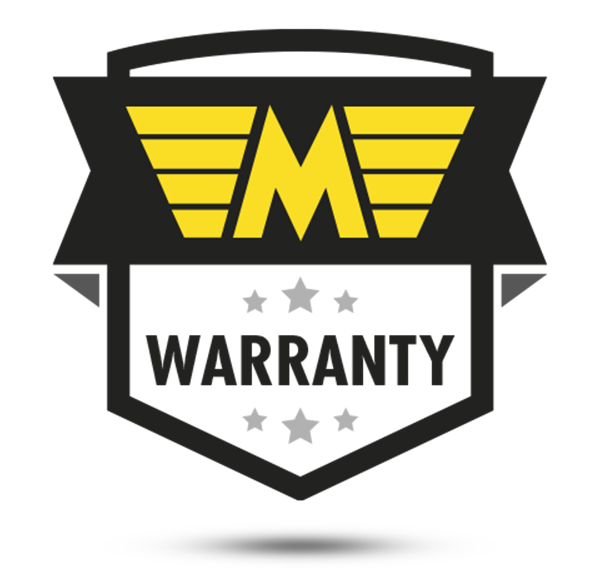 PRODUCT WARRANTY
Monroe® stands behind every product to ensure the quality, performance, durability and value our customers expect. Products are warranted to the original retail purchaser against functional and/or material defects. All Monroe products are developed and manufactured according to original suspension specifications from vehicle manufacturers. In the event of a warranty claim, please return the parts to the distributor or reseller/ installer from whom the Monroe product was purchased. You can contact us via the contact form in case of any questions relating to the terms and conditions of the warranty.
5-YEAR WARRANTY
Monroe Europe provides a 5-Year Limited Warranty (valid in Europe)
for the following genuine Monroe products:
See Coverage Limitations, Process Requirements and specific Monroe warranty limitations below.
OFFICIAL WARRANTY STATEMENT CONDITIONS OF TENNECO PRODUCT IN EUROPE, MIDDLE EAST AND AFRICA
 
DISCLAIMER: This document is intended for convenience and reference only and not intended to define, limit, or describe the scope or intent of any applicable statutory provisions nor of any provisions of any existing contracts. In case of discrepancies between this document and any other official bilateral warranty conditions, the latter shall prevail. All of the above cannot be less than legally mandatory under local law. Tenneco is one of the world's leading designers, manufacturers and marketers of automotive products for original equipment and aftermarket customers, with full year 2020 revenues of $15.4 billion and approximately 73,000 team members working at more than 270 sites worldwide. All brands which are referred to in this document are registered trademarks of Tenneco Inc. or one of its subsidiaries in one or more countries, distributed by Federal-Mogul and/or DRiV (hereinafter collectively "DRiV").
Through our four business groups, Motorparts, Performance Solutions, Clean Air and Powertrain, we are driving advancements in global mobility by delivering technology solutions for diversified global markets, including light vehicle, commercial truck, off-highway, industrial, motorsport and the aftermarket. These advancements are targeted on cleaner, more efficient, comfortable and reliable performance. Our products are manufactured to OE specification and their quality is the result of our significant investment in research, design and manufacturing to ensure to give you the peace-of-mind that your repairs will leave your customers completely satisfied.
The parts we supply will correspond with their specification at the time of delivery and will be free from defects in material and workmanship for the duration of the mentioned warranty period. All of our newly purchased products come with this guarantee promising our products will perform as expected under normal usage of the car with normal wear and tear of the part. DRiV will accept no liability in respect of any defect arising from unfair wear and tear, wilful damage, negligence, abnormal working conditions, misuse (racing, rally or motorsports and off-road), recycling or reconditioning, or alteration of the parts or failure to fit to the correct vehicle as determined by DRiV's own catalogue. The warranty period starts from the date of installation. A warranty service does not lead to an extension of the warranty period, nor does it set a new warranty period in motion.
In any other case, where there is a valid claim, DRiV will be liable to repair or replace the faulty parts free of charge or refund the price of the parts, under normal conditions within a set amount of time, depending on the specifics of the written warranty as explained in specific sections below. With our warranty statement we are demonstrating our confidence in the quality of our products.
In all cases, the warranty conditions of the respective partner organization from which the product has been purchased apply. In the event of a warranty claim or for the warranty conditions, please contact the organization where the product has been purchased.

If you are a direct customer of DRiV, Kontich, Belgium, and its direct and indirect subsidiaries in the EMEA region (you have received an invoice from DRiV directly for your purchases) you can file your warranty claim through the DRiV warranty portal:

Warranty Conditions apply for parts fitted, not for issues occurring before installation, or during transportation and/or storage. When parts have been returned under warranty to your local supplier, DRiV has the rights to examine all components including any associated parts to determine whether the failure has resulted from how the part has been installed, if there is a problem with associated components, or for any other reason.
All claims must be processed through the recognized party who has sold you the part. The claim can then be progressed to the organization from which the part originated from.


DRiV'S REGIONS IN EMEA
The Warranty Conditions as stated in this document apply for Europe, Russia, Middle East and Africa. These regions are specified as followed:
*1= Region-1: European Union Region: Austria, Belgium, Bulgaria, Croatia, Cyprus, Czech Republic, Denmark, Estonia, Finland, France, Germany, Greece, Hungary, Ireland, Isle of Man, Italy, Latvia, Lithuania, Luxembourg, Malta, Netherlands, Poland, Portugal, Romania, Slovakia, Slovenia, Spain, Sweden.
*2=Region-2: European countries not part of the Union but having same conditions: Albania, Andorra, Bosnia-Herzegovina, Guernsey, Iceland, Kosovo, Liechtenstein, Norway, San Marino, Svalbard, Switzerland, Serbia, Montenegro, Monaco, North Macedonia, United Kingdom, Vatican City.
*3= Region-3: Europe without EU: Azerbaijan, Bouvet Island, Falkland Island, Faroe Islands, Georgia, Gibraltar, Greenland, Jersey, Moldova, Turkey, Ukraine.
*4=Region-4: Eurasian Economic Union: Armenia, Belarus, Russia, Kazakhstan, Kyrgyzstan.
*5=Region-5: Middle and Far East: Afghanistan, Bahrain, Iraq, Israel, Jordan, Kuwait, Lebanon, Mauritania, Oman, Pakistan, Palestine, Qatar, Saudi Arabia, Tajikistan, Turkmenistan, United Arab Emirates, Uzbekistan, Yemen, Djibouti.
*6=Region-6: North Africa: Algeria, Benin, Burkina Faso, Cameroon, the Central African Republic, Chad, Coite D'ivoire, the Democratic Republic of the Congo, the Republic of the Congo, Egypt,  Equatorial Guinea, Gabon, Gambia, Guinea-Bissau, Mali, Niger,  Morocco, Senegal, Sierra Leone, Togo, Tunisia, The Western Sahara.
*7=Region-7: Central Africa: Angola, Botswana, Burundi, Cabo Verde, Comoros, Eritrea, Ethiopia, Ghana,  Kenya, Lesotho, Liberia, Madagascar, Mayotte, Malawi, Mauritius, Mozambique, Namibia, Nigeria, Réunion, Rwanda, Saint Helena, São Tomé and Príncipe, Seychelles, Somalia, South Georgia and the south, Swaziland, Tanzania, Uganda, Zambia, Zimbabwe.
*8=Region-8: South Africa: Republic of South Africa. 

Excluded from warranty coverage (GENERAL):

Normal wear and tear. All parts must be replaced in accordance with the vehicle manufacturer's recommended service schedule.
Any issues that occur due to the part not being fitted by a professional installer.
Products which have been modified or damaged by improper installation and/or use of incorrect installation tools, contrary to the specifications of the vehicle manufacturer and/or DRiV.
Product damage caused by accident(s).
Products damaged by installation on any other vehicle/ engine than indicated in the DRiV catalogue or its subsequent amendments.
Products that have been subject to misuse (racing and rally sport purposes, off-road usage with light vehicle (if not SUV's) unless a product it's explicitly deemed for such usage, accidental damage, incorrect installation, improper or untimely maintenance, or improper application.
Reconditioned or recycled products.
Inappropriate storage of the part: it is a requirement that parts are stored in dry and cool warehouse conditions.
Products that are past any expiration date that is mentioned on the product packaging.
Products affected by damage during transportation.
Prior to settlement of a claim, DRiV reserves the right to examine all related DRiV and non-DRiV parts involved.
This warranty does not affect your statutory rights.
MONROE
EXCLUDED FROM WARRANTY (SPECIFIC FOR MONROE PRODUCT CATEGORIES):

Claims where damaged mounting parts were used or reused such as rubber dirt shields, damaged bump stops, etc.
Monroe Ride-Levellers with air sleeve abrasion caused by incorrect mounting.
The warranty applies only if the original invoice for the part is provided to the dealer and the vehicle owner is the original purchaser.
Shock absorbers must be stored in horizontal position.
Cost of removal and installation is not included under warranty.

ADDITIONAL 5 YEARS WARRANTY LIMITATIONS (For the regions where applicable)

Where shock(s) are not installed in accordance with Monroe's recommendations:

Both shock absorbers of one series (Original, OESpectrum) must be replaced on the same axle at the same time (except Monroe Intelligent Suspension RideSense).
Where applicable, Protection Kits (PK) and Mounting Kits (MK) must also be replaced at the time of the fitting. Claims against Monroe shock absorbers installed with old or previously damaged Protection Kit (PK) and Mounting Kit (MK) are excluded.

The Protection Kits (PK) and Mounting Kits (MK) not installed in accordance with Monroe's recommendations:

The shock(s) not replaced also at the time of the fitting. Claims on Monroe Protection Kits (PK) and Monroe Mounting Kits (MK) installed with old or previously damaged shocks & struts are excluded.
WARRANTY PERIOD - Valid for regions *1; *2; *8
Warranty period
Series

MONROE INTELLIGENT SUSPENSION RIDESENSE;
MONROE OESPECTRUM;
MONROE ORIGINAL;
MONROE ADVENTURE;
MONROE VAN-MAGNUM;
MONROE GAS MAGNUM;
MONROE SPRINGS;
MONROE MOUNTING KITS;
MONROE PROTECTION KITS

MONROE MAGNUM;
MONROE MAX-LIFT;
MONROE SUSPENSION PARTS
WARRANTY PERIOD - Valid for regions *7;
Warranty period
Series

MONROE INTELLIGENT SUSPENSION RIDESENSE;
MONROE OESPECTRUM;
MONROE ORIGINAL;
MONROE REFLEX
MONROE ADVENTURE;
MONROE VAN-MAGNUM;
MONROE GAS MAGNUM;

MONROE MAX-LIFT;
MONROE MOUNTING KITS;
MONROE PROTECTION KITS
MONROE SPRINGS;
MONROE SUSPENSION PARTS

WARRANTY PERIOD - Valid for regions *3; *4;*5; *6;
Warranty period
Series

MONROE INTELLIGENT SUSPENSION RIDESENSE;
MONROE OESPECTRUM;
MONROE ORIGINAL;
MONROE REFLEX
MONROE ADVENTURE;
MONROE VAN-MAGNUM;
MONROE GAS MAGNUM;
MONROE SPRINGS;
MONROE MAGNUM;
MONROE MAX-LIFT;
MONROE MOUNTING KIT;
MONROE PROTECTION KIT;
MONROE SPRINGS;
MONROE SUSPENSION PARTS

Whenever you have issues during work or need technical assistance please feel free to contact our Garage Gurus On-Call call center.
Our master technicians have a wealth of knowledge at their fingertips and are ready to help. Contact us by phone or email for a quick and professional answer during EMEA working hours.
Our Gurus speak English, French, German and Spanish, but by email can handle more languages. Give it a try:
discover the monroe® range
Discover Monroe shock absorbers, now with a 5 year warranty on any qualifying Monroe product when completing a full replacement of shocks and struts in pairs, including protection and if applicable mounting kits.

shock absorber Installation Guide
Replacing worn shocks and struts is an important step in restoring a vehicle's safe steering, handling and braking characteristics. Follow these detailed instructions to ensure a complete, high-quality repair.
Catalogues
Find all of the Monroe parts you need for any steering and suspension repair through our convenient library of free, downloadable PDF catalogues and user-friendly electronic catalogue interface.